The
Snow Forts
was a
room
in
Penguin Chat 3
, however where the Snow Forts were
supposed
to be situated you would find an empty room with a small "Coming Soon" sign towards the right side of the area. Nobody knew when it was going to be constructed or done at those times, as Penguin Chat 3 was shut down and replaced by
Club Penguin
before it was completed. The only way to access this room was to enter the Construction Site on the left, activate the secret Snow Cat and then click on the far right of the room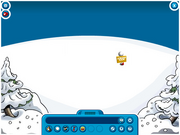 There was no Clock Tower in this area, unlike the Snow Forts at Club Penguin.
The "Snow Forts" in PC3 looked like absolutely nothing compared to its successor's Snow Forts of Club Penguin; the room was basically trees, snow, and a "Coming Soon" sign.
It is unknown if it would have started Team Blue or Team Red sports. (due to the flags, which could have been colored if it came out.)
No one new why there where so many secret rooms. Many people thought that they were going to be party rooms where there were going to be different parties.
It is almost the same place than Puffle Roundup in Club Penguin.