This article is a
Medium Quality Article
.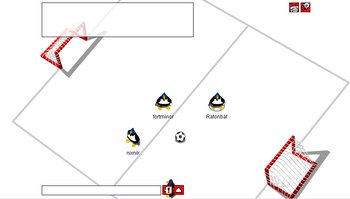 Penguin Football Chat (also known as Penguin Chat 2, or Football Chat) is a chat that was currently running, but closed. Penguins are located at a football field, and can play football too. Penguin Football Chat is closed. The penguins in this game look like the penguins used in Experimental Penguins. It also has the same interface as Experimental Penguins.
Some people say that the idea of the Soccer Pitch from Club Penguin was inspired by this chat. It is not true, because most likely Club Penguin has not heard of this chat.
It derives from the Penguin Chat Series.
When you hit the ball, it won't move to the exactly direction you kicked it. Example if you kick the ball to go straight, it can go to your right. This is why many prefer the Soccer Pitch.
Most of the time, you can see people asking for your Club Penguin password. They may be trading for another password. Whatever you do, DO NOT TELL YOUR PASSWORD. They may want another account to hack and get you banned.
It is NOT Penguin Chat 2 as Penguin Chat 2 was released in 2003 as a successor by Rocketsnail Games although Penguin Football Chat was made by Contact Music.
External Links
Edit
Penguin Football Chat (Penguins here can swear, or say inappropriate content, and it isn't recommended that younger children play this. It is recommended that you are at least 11 or 12 years old depending on how sensitive you get when you see users cursing and/or using inappropriate language.).