This article is a Medium Quality Article
.
Penguin Chat 2 was another MMOG game that was the predecessor to Penguin Chat 3.It didn't have any membership and the purpose of the chat was to chat and have some fun.
There were 5 rooms in it. They are:
Snow Room
Edit
All of these rooms are blank. But this one is ALWAYS full of penguins!
North Pole
Edit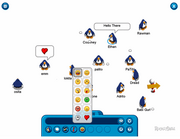 The North Pole had a striped pole as well as little penguins.
Outside Igloo Room
Edit
This was the room which was outside the Igloo.
Inside the igloo had the Penguin Band playing. The Igloo could be accesed from the Outside Igloo Room.
Sometimes people mean Penguin Chat by the remake, by this one or by Penguin Chat 3.
Not many people know about it.
The penguins didn't change much in Penguin Chat 3 or Club Penguin.
If you were to throw a snowball, you would press a button and it would randomly generate a direction to throw to.
Jokes were also random. You would press a button and a random joke would appear. You couldn't talk or generate a new joke when a joke was up.
It is no longer available.
Penguin Football Chat is thought to be this but it is not because Penguin Football Chat was made in 2006 by Contact Music and not Rocketsnail Games. Research has proven this.
However, Penguin Chat 2 discontinued and moved on to Penguin Chat 3.
You can still play Penguin Chat 2 in this link.
You can swear in Penguin Chat 2 so it is reccemond to be at least an age where swearing can be handled.