This article is a
Medium Quality Article
.
This page contains content from
The Club Penguin Wiki
. We have permission to use the information. If you have any Questions, ask them on This page's Talk Page.

Experimental Penguins is an old game from 2000, which is believed by many to have started the history of Club Penguin. They were a multi player Game/Chat, similar to Club Penguin, and it was made around the time of RocketSnail Games.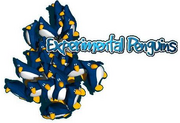 You could choose a name and be a default color, default colors included black, blue, green & red. Little is known about Experimental Penguins since there are not many pictures of gameplay. From the icon they put next to it on Rocketsnail.com, it seems that there was dynamite (explosives) and Snow Cats (vehicles) which soon made their way into Penguin Chat.
Experimental Penguins only stayed up for a few months but it got several awards. It closed down, and then Penguin Chat came along. During Experimental Penguins, there was a game being worked on for it called Snowblasters. The game was never finished before they put up Penguin Chat. The site is currently inactive.
At the official site, it says:Where did the Penguins Go? Well the penguins are looking for a new home. The penguins will return in a couple months! Thank-you. This means Experimental Penguins may come back, but this is considered highly unlikely because of the launch of Club Penguin. Also the "New home" referenced could possibly mean wherever Penguin Chat took place.  
External links
Edit