This article is a
High Quality Article
. Please only make needed changes!
This page contains content from
The Club Penguin Wiki
. We have permission to use the information. If you have any Questions, ask them on This page's Talk Page.




Beta Testers were people who played PC3 and volunteered to test Club Penguin before its release in 2005. Beta Testers recieved a rare hat now known to many as the Beta Hat. Many of the Club Penguin betas played Penguin Chat 3.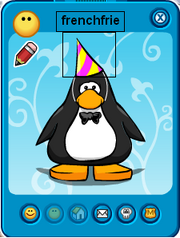 Beta Testers
Edit
0000
8stoplight8
aaron
abcdf
Accessory
ACE
acura
Alexaleigh
Ali (Penguin1503)
Alix1232
amanda481
Amy
Andy07
andykohl
ansem1212
April Dude
aqua link
Astros man
atheeta
athi11
Avani
Bad Boy
badboyz
bailey
barker
BBBOnline
beakj
beautie101
Benoit
BIG DANE
BIG Red
BigB
bikeboy93
Billie joe
Billvbob
Billybob (Moderator on Penguin Chat 3)
BiRd
BiZz
blah blah49
blossom888
bluestarz
boat
bosox
boyman
bra8anna
bra9anna
BT1
bull
bulletwolf
camaloupe
Cant Forget
caption
Charze
chena
chita999
chub chub
CIARA M
clank
CLONE
coco
cody
cody m
commander k
cool123
cutegirl43
cuteness93
cutieblast
cutiepie22
cutiepie3
DALE JR
danial
dany2009
DarkNess888
darkstar
dark star1
dicey
dot
Dragon
dragonking
Drake Bell
dubvader234
Dude19
dudez
EBnation
fano
fazdaman
FEnrike
fillup0
fireball
firebolt
firediva
flipper
foobalah
FrAnCoSg
FREAKSHOW
fredbob360
frenchfrie (featured in above picture)
frostbite
frosty
fuse
Game Boy7
gangsta
gangsta187
gannondorf
gertalbub
GHosT45
Gizmo
Greenday
grim
Gronnie
halo2
Ham63
hapLander
Happy77 (Fake Happy77)
hats
helen 2k5
Hero
Hiba777
hillo
holly short
hollyz
iceberg
Ilsoap
itotallyrock
jake
JaMeS
Jar
Jas
Jedi
jeff ortan
Jeremy
jericho1212
jerno13
JetKid15
Joe
joejoe
joeley
joey
jordan414
josh17
Josie
julius
Kelly
KellyM32
kentpet
kidlego15
kimberly11
kirbyrox
kirky101
kitty
Knuckles
kolbster
kompanj
KURT ANGLE
kwa99
lawyermagic
lax 5
lemyy
lil chaos
lil cutie26
link141444
Link555
little wolf
loo loo
Loli424
LostKitten
lovely
luffy
lylac
Mace
magma link
man101
marty
max1616
maxpengoo
Mean Girl
mely04
mexican101
mickster200
mik
Mike blue
mikey
minto
Mnavarro
monkeygirl
moody
mooman1
mooser
MrEd
Mrwobbly
munkygrl
mutley11
nato
natonstan
navypenguin
neaner
newbie10000
newman
Nickzilla
Ninjaneal
nll fan
norp
ock
olga123
p Mashell
Papa Dog
Paper
pauguin
paul p
pdiddy
pedro
Penguin114
Penguin247g
penguinthl
phat fano
pingu girl
pinkilicous
PinkTink
pixri
prince pup
ProBo
Pu
punkqueen
puppyluver4
queenNBA
R U sleepy
raaraabear
RancidKraut
rayxman
red friend
red heart00
rolver
rose100
roxy
rsnail (Moderator on Penguin Chat 3)
sabrina818
sales300
saxo
scotty
Screenhog
shadow727
shapsi
shauny
shrootea
shyguy
sITH SITH
sk8forlife
skidder
slowpoke
Snowman 1001
sonic x
spellgirl13
spideyote
srs581
starbucks
stefy73
steve
stuartputt
sweets27
swinging
tallygirl
tangy0605
taytay1234
TaZz
terrace
timpenguin
Toby
tomz
tuvey
Tux
Tyler1993
Unown
VikingTom
weezy
willow
woods
Wupiiii
YoursTruly
z man
zach55
zahnay
zeke
zipi23
zonnieAmy
Penguins who participated in the CPIP testing are thought to be betas, but almost all are not.
When penguins share accounts, one penguin usually tricks the other by telling them they have the beta hat, referring to the red construction hat.
Easily Betas are spotted on servers like Frozen, Sleet and Mammoth. Many Beta watchers go there, and many rare penguins go there, too.
The reason why Beta Testers are rare to see is because they are not seen very often - usually caused by them quitting.
Most Beta Testers have no numbers in their Penguin name, since newer penguins usually have their desired user name already chosen and therefore extend it with numbers to make it unique.
Beta testers (while wearing the beta hat) usually attract crowds.