This article is a
Medium Quality Article
.
[[Penguin Chat 3|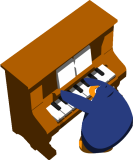 ]]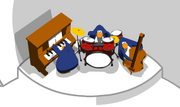 Interestingly, a group of musical penguins

resembling the Club Penguin Band existed in Penguin Chat 3. There were a few differences, listed below:
The piano that one of the penguins used was brown, not black.
There is not an acoustic guitar player in the group.
The band played around the clock at the Night Club. There were not any speakers or disk jockey stations in the room.
In the only known picture of a Penguin Chat 3 Igloo, the PC3 band is inexplicably depicted as playing in the igloo. They are playing a song called "I've Been Delayed" by a band called TAS1000.
At the Night Club, the band played "I've been Delayed" by TAS1000 and "New Maths" by Tom Lerher (a very very old song)
The band members actually sung instead of just music, unlike Club Penguin.
Songs played (Both Night Club and Igloo)
Edit
By all the time (2004-2005), they played 12 songs, the song is changed time-to-time.
I've Been Delayed - TAS1000
Banana Phone - Raffi
All Day All Night - Unknown
New Maths - Tom Lerher
3AM Eternal - KLF
Wait A Minute - Unknown
Unknown Chinese Song
My Name Is - Eminem
Wipe Out
All Day All Night (Remixed)
Fur Elise - Beethoven
VN
Bold means the song that stays very long, while others are temporary songs played in only few days or weeks.

Note:This is sorted by random
Club Penguin Band
Edit
The Penguin Band is very similar to the PC3 band, as they are the same Penguins playing the same instruments. There are some differences, like a new penguin playing the guitar was added to the band instead of a penguin playing the piano. Also, the Penguin Band from the current Club Penguin has four members; the band shown in the few pictures of PC3 had three members.
The penguins in the Club Penguin Band are all different colors, instead of Old Blue being the only color.

No Band member wears Old Blue in Club Penguin.
They had autographs but the band in Penguin Chat 3 did not.
See also
Edit